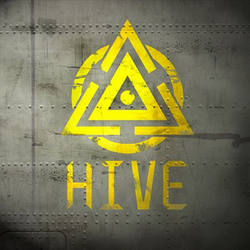 Welcome to the Hive
Hive is a faction-led Live Action Role Play based in a Post-cataclysm Colony on a far-away planet. It is a desolate place where loyalties, skills and firepower are put to the test.
Hundreds of years after a great catastrophe struck the colony, the remaining coherent factions of "The Hive" re-emerged and have been fighting against the odds to survive and expand.
It is a fight for resources left after the catastrophe, a fight for territory held by both aggressive and reclusive Renegades and the other factions and, most importantly, a fight to survive whatever lurks in the shadows.
Fighting may not be the only option, however. A sharp mind and a silver tongue may prevail where a quick trigger finger would only get you killed. 
Do you have what it takes to make it in the Hive??
Click here to see the latest rule changes.
There are 5 warring factions within the Hive.
The World
The weapon lists have been broken down into four categories.
There are five careers available to develop at Hive.
There are skill trees for each type of weapon and kit, as well as five career skill trees.
Career Skills
Community content is available under
CC-BY-SA
unless otherwise noted.